Custom Docks ... Plus your source for waterfront fun!!
Planning a new dock ?
We are here to help!
We will

listen

to you and help you to design the dock of your dreams. We will ensure your dock is built to last a lifetime and that is it is the correct type of dock to be most effective and cost efficient to

suit

your body of water and shoreline. We stand behind the quality of our work and consider your project complete when you are 100% satisfied.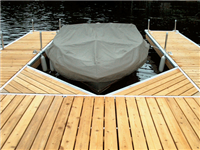 For shallow water ideally less than 6' Pole Docks are the least expensive docking solution. Their light-weight design and easy assembly will reduce your install and removal crew requirements.it me. It's easy.
For deep and changing water levels. Solid attachment to shore is essential. The most common means of shore attachment is concrete pour, shore beam, shore deck or break wall. The floating sections are joined to shore with a hinged ramp.
Works like a drawbridge for easy removal. Tower Docks save you from getting wet with the annual install and pull out. Designed to work like a drawbridge, they slip effortlessly into the water each spring, and stay safely above the ice in the winter.